FRET-based peptide probes can generally be used to monitor protease activity in vivo to image specific target molecules in vivo
Source: CBG Information
Original Title: ACS Nano: Human Neutrophil Elastase Activated CdSe/ZnS Quantum Dot Fluorescence Resonance Energy Transfer Fluorescence Probe for Lung Disease Imaging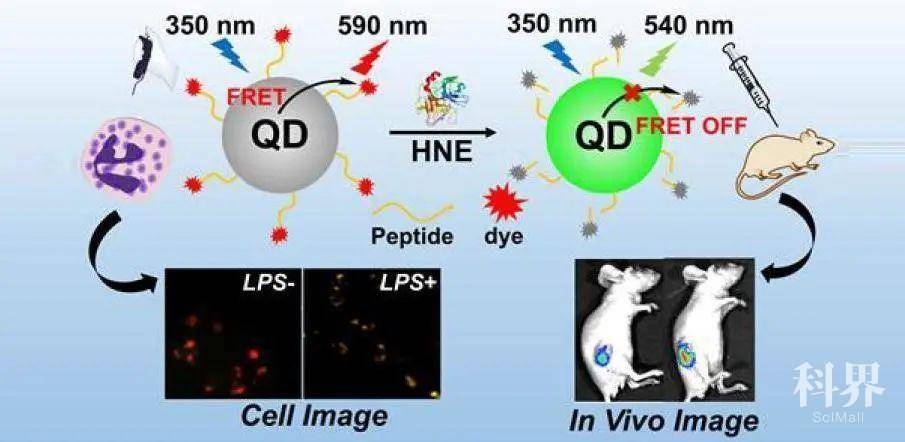 Air pollution (including PM 2.5 ) has hit most countries in the world, causing serious environmental problems, greatly increasing health risks around the world, and has seriously affected more than 800 million people suffering from respiratory diseases. As the main component of neutrophil azurol granules, human neutrophil elastase (HNE) participates in pathogen destruction and regulation of respiratory tract inflammation process. It can also cut extracellular matrix components of trachea and promote neutrophil migration to inflammatory sites, which are highly related to common lung diseases. Therefore, HNE is considered as a therapeutic target for drug discovery and a biomarker for various lung diseases. Due to its photochemical and photophysical characteristics and adjustable emission range, fluorescence strategy based on quantum dots can improve sensing performance, and such imaging probes have been used in enzyme determination. Fluorescence resonance energy transfer (FRET) usually occurs between two fluorophores with an appropriate distance (< 10 nm). However, there are still some defects in monitoring protease activity in vivo, such as insignificant changes in FRET and insufficient fluorescence sensing characteristics. Integrating organic dyes and quantum dots into peptide substrates can provide a controllable and scalable strategy for constructing FRET systems for detecting proteases.

Schematic Diagram of Mechanism for Detection of HNE Activity by Nanoprobe Based on FRET System
(Source: ACS Nano )
Recently, Professor Yang Guangfu and Professor Yang Wenchao of Huazhong Normal University jointly reported the construction of FRET-based nanoprobes for lung disease imaging by assembling sulforhodamine B and carboxylated quantum dots into oligopeptide substrate (QPMAVVQSVPQK). The amide bond between the two valine residues of the substrate can be hydrolyzed by mouse and human elastase for detection of HNE in vitro and in vivo. The nanoprobe can be used to monitor endogenous HNE in living cells and lung cancer mouse models with high sensitivity and specificity, and can be successfully used to detect HNE activity in patient serum. The related results were published on ACS Nano (DOI: 10.1021/acsnano.9b09493) under the title "Human Neutrophil Elastase Activated Fluorescent Probe for Pulmonary Diseases Based on Fluoresce Energy Transfer Using CdSe/ZnS Quantum Dots".
  FRET-based peptide probes can generally be used to monitor protease activity in vivo to image specific target molecules in vivo. Generally speaking, the peptide probe of FRET includes three parts: quantum dots as donors, sulforhodamine B (Rh) as receptors, and HNE-specific peptides as linkers. Two elastase-specific peptides, QPMAVVQSVPQK-Rh (P1) and APEEIMAQK-Rh (P2), were integrated onto the surface of the QDs via amide bonds after activation of the carboxyl groups on the QDs. By comparing the quenching efficiency of P1 and P2 on quantum dots and the cracking efficiency of HNE, the author chose P1 to construct FRET probe based on quantum dots. CdSe/ZnS quantum dots and InP/ZnS quantum dots are assembled with P1, respectively. InP/ZnS is rapidly quenched by sulforhodamine B, while CdSe/ZnS probes have higher FRET efficiency and HNE catalytic activity. HNE can break the amide bond junction between the two valines in FRET probe, resulting in the destruction of FRET system, the restoration of green fluorescence of quantum dots and the decrease of red fluorescence of Rh.
In order to verify the assembly process of FRET probe, the author carried out dynamic light scattering, transmission electron microscope, Zeta potential and infrared spectrum tests respectively. The author studied the FRET efficiency of the probe and whether there is alternating excitation defect by photoluminescence spectrum. It was found that the FRET efficiency was as high as 78.5%, and the probe could overcome the interference from animal tissues and be used for in vivo imaging. The specificity and sensitivity of the FRET probe were studied in complex biological samples with different proteases and different concentrations of HNE respectively. It was found that the probe had high specificity and a detection limit as low as 7.15 pM. Under physiological conditions, the author studied the kinetic characteristics of the probe as a substrate, HNE activity and its inhibitor ability through Michaelis-Menten curve. The kinetic parameters obtained from the Mie equation curve ( K M And K M /k Cat ) ~ 142.3 nM and ~ 997 mM, respectively -1 • s -1 . The overall catalytic efficiency of the probe ( K M /k Cat ) is almost the same as the commercial substrate, but the affinity for the probe is 275 times higher than that of the commercial substrate ( K M ).
Michaelis-Menten Curve and Inhibitory Drug Concentration Curve of HNE to FRET Probe and Commercial Substrate
(Source: ACS Nano )
Since HNE promotes the growth of lung tumors, the author applied FRET probe to HNE imaging in lung cancer cells (A549). Through the localization of FRET probe in A549 cells, the author found that quantum dots and dye-labeled peptides specifically accumulate in lysosomes, which may be caused by phagocytosis and electrostatic interaction of A549 cells. Next, the author injected FRET probe directly into the mouse lung cancer model to study its imaging ability in vivo. At the location of primary tumor, green fluorescence gradually increases, while red fluorescence decreases with time. In vivo studies of FRET probes also revealed a strong correlation between lung tumor progression and increased HNE levels. In order to explore whether the enhancement of green fluorescence is caused by the dynamic changes of HNE in living cells, the author confirmed through Western blot analysis that lipopolysaccharide stimulation does increase the concentration of HNE in cells. FRET probe can monitor the increase of HNE in inflammatory-induced living cells, so the author studied the expression of FRET probe in inflammatory environment through lipopolysaccharide-induced acute lung injury. HNE levels in serum samples of 3 healthy people and 13 people with different lung diseases (lung cancer, pulmonary tuberculosis and pulmonary mycosis) were directly detected. It was found that HNE levels in patients with different lung diseases were significantly higher than those in healthy people. The HNE level detected by FRET probe-based method is highly correlated with clinical diagnosis, and the method is suitable for quantitative determination of HNE in clinical samples.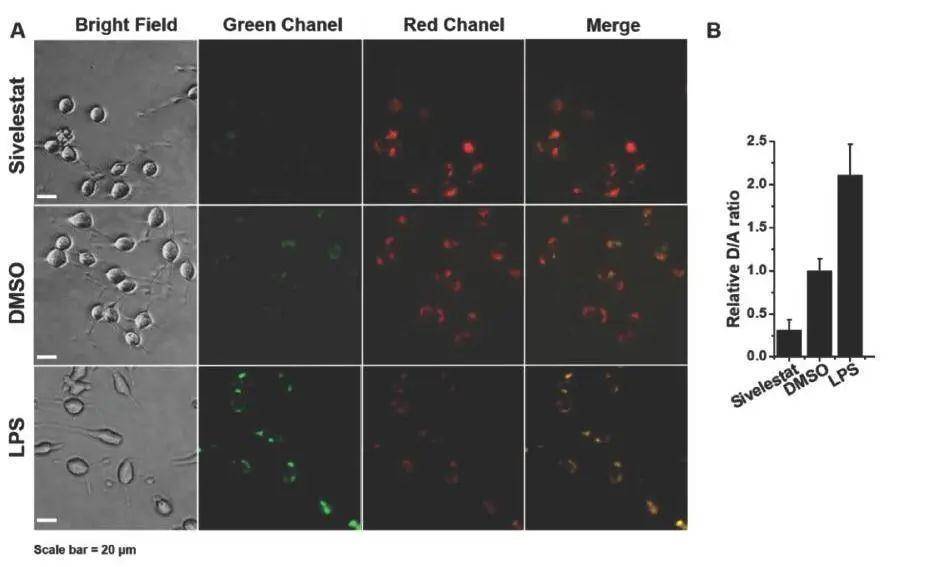 Michaelis-Menten Curve and Inhibitory Drug Concentration Curve of HNE to FRET Probe and Commercial Substrate
(Source: ACS Nano )
Summary: Professor Yang Guangfu and Professor Yang Wenchao of Huazhong Normal University jointly reported the construction of FRET-based nanoprobes for lung disease imaging by assembling sulforhodamine B and carboxyl-functionalized quantum dots into oligopeptide substrate (QPMAVVQSVPQK). This study provides a valuable strategy for FRET system based on quantum dots to analyze enzyme activity, and significantly improves catalytic efficiency, sensitivity and light stability. Since HNE is an important therapeutic target, the probe can also be used for high-throughput screening of HNE inhibitors to discover drugs. This strategy proves the advantages of nanoprobes based on FRET system in imaging performance and provides new tools for HNE detection and lung disease diagnosis in vivo.