Meeting Detail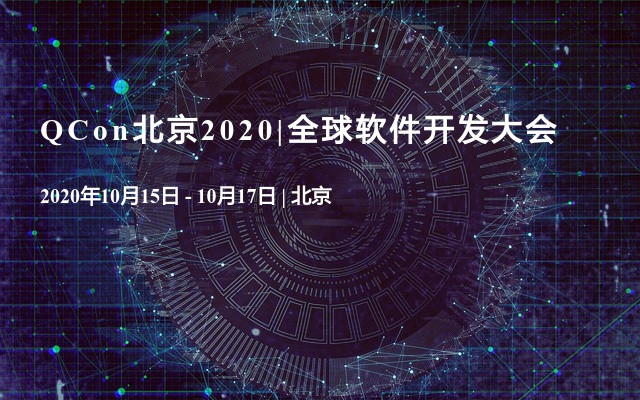 QCon Beijing 2020 Global Software Development Conference Publicity Chart
QCon & nbsp; It is a comprehensive technology event sponsored by InfoQ China, a subsidiary of Geek State Technology, and is held every year in London, Beijing, New York, Sao Paulo, Shanghai and San Francisco. Since it was held in March 2007, more than 10,000 technicians with many years of experience have participated in the QCon Conference. QCon content originates from practice and is oriented to the community. Speakers share technological innovation and practice with technical team leaders, architects, engineering directors and developers with more than 5 years of working experience according to hot topics.
Training: 18-19 October 2020
Meeting: 15-17 October 2020
Speech Topic
Java Ecology and Future
This topic mainly discusses the basic JDK and JVM support technologies for the future evolution trend of Java technology, the micro-service framework and programming model for the cloud native era, and the programming practice in Java field that front-line Java developers have been paying close attention to.
Next Generation Infrastructure
Infrastructure technology can provide more powerful functional support for upper-level services and improve service reliability. If there is a problem with the infrastructure, it often brings about major accidents of overall importance. This topic will focus on the changes and evolution of the next generation infrastructure.
Application of Cloud Native Technology
This topic will focus on the practice of cloud native, and practitioners will share their experiences and lessons gained in the process of cloud native evolution, & nbsp; Help more teams to avoid detours and successfully practice cloud origin.
Thoughts on Technology Productivity
An exciting technology is still a long way from exciting products. What really attracts users is products that can produce real value rather than underlying technologies. This topic will take you to think about how to turn good technology into good products and into Aha moment of products.
Financial science and technology
This topic will focus on the transformation cases of Internet finance and traditional financial industries, focusing on Cloud computing, big data, artificial intelligence and other technologies reshape, apply and empower the financial field.
New Retail and Commercial Digitalization
Digitalization has become one of the important means to drive the growth of enterprises in many industries, as has the retail industry. This topic will invite senior technical experts from pioneer enterprises in the field of digital retail to share their thoughts and summaries from digital practice.
In-service station
As major Internet manufacturers have released their own strategies for China and Taiwan, China and Taiwan have become a hot topic. This special topic will invite Chinese and Taiwan technical experts from large factories in different industries to share their thoughts and practical experiences on the construction of Chinese and Taiwan in their own environment.
Innovation and Practice of Micro-service
Micro-service has been in full swing in the system technology architecture of all walks of life in the past few years. Today, there is almost no such problem of "using" or "not using". It has basically become the problem of how to upgrade the existing micro-service infrastructure.
Real-time data analysis
In this topic, we will invite many technical experts from domestic and foreign first-line Internet enterprises to share the development trend of new real-time computing and data analysis technologies, and bring new inspiration to you through a large number of real production practice cases.
New Trends at the Front End
In order to ensure a better user experience, front-end engineers need to maintain continuous attention to new technology trends. This topic will bring some new explorations and attempts in front-end cutting-edge technologies, hoping to bring some new thoughts or new ideas to everyone.
Future Computing Technology
With the increase of cost and complexity of advanced nodes, the demand for computing power application scenarios is becoming more and more diversified. Edge computing, vector computing, matrix computing, etc. will play an important role in the future when everything is interconnected. This topic mainly focuses on the application of next generation computing technologies such as edge computing.
Architecture Evolution
The development of a series of new generation information technologies such as cloud computing, big data, block chain, mobile interconnection and artificial intelligence is further accelerating the digital transformation of enterprises. In this topic, architecture experts from different industries are invited to share with you successful cases of architecture evolution to help enterprises win technological dividends in the digital age.
Artificial Intelligence and Machine Learning
This topic will focus on the emerging technologies and key developments in the field of artificial intelligence, and discuss the engineering challenges and solutions applied to machine learning problems.
Large front end and large project
The front-end is no longer as simple as writing Web pages in those days. The front-end technology has been extended to various "ends". The same is true for the matching engineering system. Only conventional methods such as construction, tools and specifications are not enough to express the fields involved in the current front-end engineering.
Leading the Reform of Engineering Efficiency
It is intended to focus on the business results brought about by engineering capacity building, such as the acceleration of market response, the improvement of quality and experience, and the saving of costs. It will call on innovators in the field of engineering efficiency and let them come out to lead more people to participate in the transformation of engineering efficiency.
Modern Data Architecture
The accumulation of massive data and the development of cloud computing pose severe challenges to the data center architecture. This topic will bring together the global leading technology teams to discuss the data architecture technology.
Audio and Video Experience Promotes Actual Combat
How to build a video station, monitor and guarantee resource links, improve broadcasting experience and build a richer form of video interaction are common practical challenges in the industry. Video technology experts from many well-known companies in the industry will explain their actual combat experience in the future.
New Programming Language
The development of programming language is inseparable from the development of software development technology. This topic focuses on the application and development of new programming languages such as Rust, Swift and Kotlin.
Block Chain Innovation Technology
More and more enterprises hope to use block chain to solve the problems of low efficiency, high cost, opacity and poor security of traditional centralized technology. This topic will focus on the technological innovation and application development practice of block chain.
Internet Business Security Prevention and Control System
In order to help the healthy development of the business, how to perceive and resist black products or attacks by technical means? How to expand from a single point of business security capability to a complete set of standardized business security system?
Engineer Growth
Software is changing the world, and engineers are changing software. Technology is changing with each passing day. How Builds a Sustainable Engineer Capability Growth Model to Promote Career Development? Will be the focus of this topic.
Technical Team Management
Technical team management is a very extensive topic, and it is the only way for most research and development students to take in their career. I think technical management is a necessary skill for technical personnel, and they should exercise their technical management ability intentionally or unintentionally.
AIOps Landing Practice
The operation and maintenance work of major enterprises has shown explosive growth in scale and complexity. This topic will focus on the landing practice of AIOPS and other intelligent operation and reform technologies.
Organizational Transformation of Enterprise's Ultimate Decisive Battle
With the intensification of market competition pressure and the soaring price of Internet traffic, enterprises can no longer win the war through crowd tactics. When the tide recedes, all problems in the organization will come to light. This topic will focus on the experience and practice of organizational transformation.
Practice of Dispatching System
At present, scheduling system has been widely used in many technical and business fields, from container scheduling at the resource level to job scheduling at the workflow level, and then to intelligent scheduling of business tasks and traffic at the business level.
Performance Optimization in Cloud Era
Through this topic, how can applications and services on the cloud show better performance through optimization, such as more stable, shorter delay and larger throughput? How can applications and services on the cloud make full use of hardware performance, such as scheduling and hybrid deployment, and integration of hardware and software.
Application Practice under the New Ecological Trend of Mobile
Mainly focusing on the battlefield of mobile Internet, what are the important application practices of the hot new technologies in the past two years, what characteristics have been utilized, and what actual results have been achieved in how? What hot technology trends that have not yet formed are sprouting and putting into practice?
Industrial Level of Video AI
Computer vision technology has achieved quite good results in the field of image-level applications, but there are many challenges in the field of video from production to understanding to addition. Experts from well-known companies in the industry will bring their actual combat experience in the field of video AI.
New Trend of Software Testing
How to complete efficient testing in emerging fields such as block chain, big data and micro-services, how to assist our daily testing work through AI, how to establish and quickly reproduce testing infrastructure, and how to understand and practice testing based on fault injection.