Meeting Detail
In order to implement the spirit of General Secretary Xi Jinping's important speech on promoting novel coronavirus pneumonia prevention and control and economic and social development as a whole, We will implement the Party Central Committee's guidelines on "encouraging the use of digital technologies such as big data, artificial intelligence and cloud computing to better play a supporting role in epidemic monitoring and analysis, virus traceability, prevention and treatment, and resource allocation." According to the decision-making and deployment of the China Association for Science and Technology on giving full play to the advantages of scientific and technological organizations to serve the post-epidemic development of enterprises and promoting the in-depth integration of science, China International Science and Technology Exchange Center focuses on the main line of international technology trade and service. On the premise of jointly abiding by international rules and national laws and regulations, and in line with the principles of openness, transparency, co-construction and sharing, the International Technology Exchange Service Alliance Platform (ITEC) is launched to create a "cloud supermarket" where innovative resources gather, promote innovative cooperation and "cloud sharing" of achievements, deepen global bilateral and multilateral cooperation, and promote in-depth integration of science, technology and economy.

Since the outbreak of novel coronavirus pneumonia, China and South Korea have been affected by the epidemic one after another. The epidemic has no borders and all countries in the world are a community of destiny sharing weal and woe. China and South Korea are friendly neighbors that depend on each other in fate and protect and help each other. Facing the epidemic situation, China and South Korea should strengthen communication, pool wisdom and overcome difficulties together. In order to promote China and South Korea to strengthen communication and deepen cooperation in the fields of public health and medical care, On May 29, 2020, China Technology Exchange and China International Science and Technology Exchange Center jointly held the "Korea High-end Technology Roadshow Special Event on ITEC International Technology Exchange Alliance Platform".
Activity Time
Friday, May 29, 2020
14:00-17:40 p.m.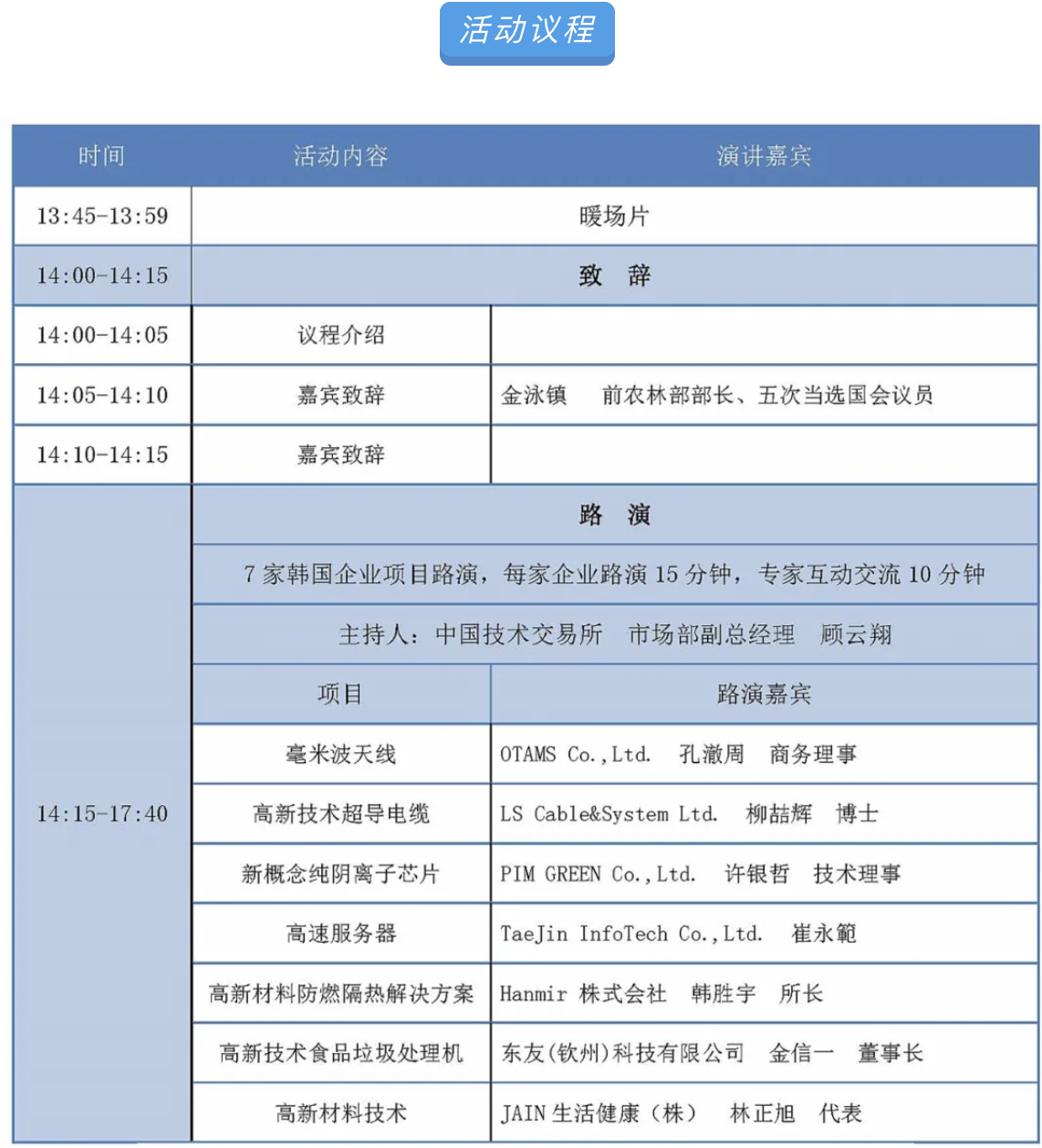 Activity Form
(1) On-line roadshows
(2) In order to ensure the viewing effect of the roadshow and a good participation experience, please download the Zoom client in advance and download the link: Https://zoom.com.cn/download
(3) Enter the conference room
Meeting ID: 975 3529 0145 & nbsp; Password: 473863